Evaluation Overview
Go to the ESG Evaluation Website
An evaluation model for corporate governance in financial institutions is used to assess the corporate governance of financial institutions and their overall disclosure quality and to encourage self-initiated improvements in disclosure quality and governance structure.
Vigorous debate on the sound governance structure of FIs in advanced countries and G20 forums
Enactment of the Act on Corporate Governance of Financial Institutions
Evaluation Model
KCGS designed a corporate governance evaluation model specifically targeted at financial institutions. The model is in line with international standards including BCBS guidelines and FSB principles, and reflective of the nature of the domestic financial institutions.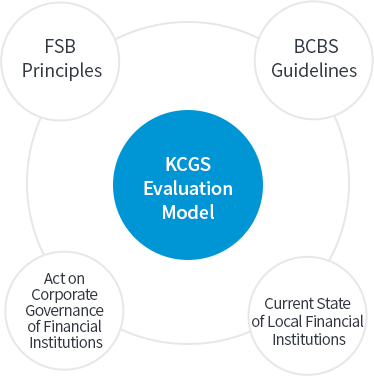 For questions, please contact Analysis Team3 at +82-2-6951-3711